In order to be successful online, you need to have the right keywords. In this blog post, we will go over six places where you can find good travel keywords to boost your SEO strategy.
You'll learn how this practice differs from regular search engine optimisation (SEO) and why nailing this is important when working on a website related to travelling.
Many travel agents and bloggers often overlook keywords, causing the wrong targeting and wasted money and time. So if you want your site or article on the first page of Google for relevant searches, then read this post!
Tip: Need help with your travel keywords? Check out our SEO keyword services.
What Are Travel SEO Keywords?
SEO keywords are the words, phrases, or queries people enter using search engines. These are essential components in any SEO strategy for a travel website or blog, as it gives you an idea of what to base your content around.
For example: If your target audience is searching "where to stay in Hawaii" and you decide to target this keyword, then you should ensure that your content adequately meets the intent of this query.
Types of SEO Travel Keywords
There are two main types of keywords in SEO—namely, broad and long tail. A broad search might be "hotels in Hawaii". These can be challenging to rank for as they are generally taken up by various booking sites on the Search Engine Results Page (shown below).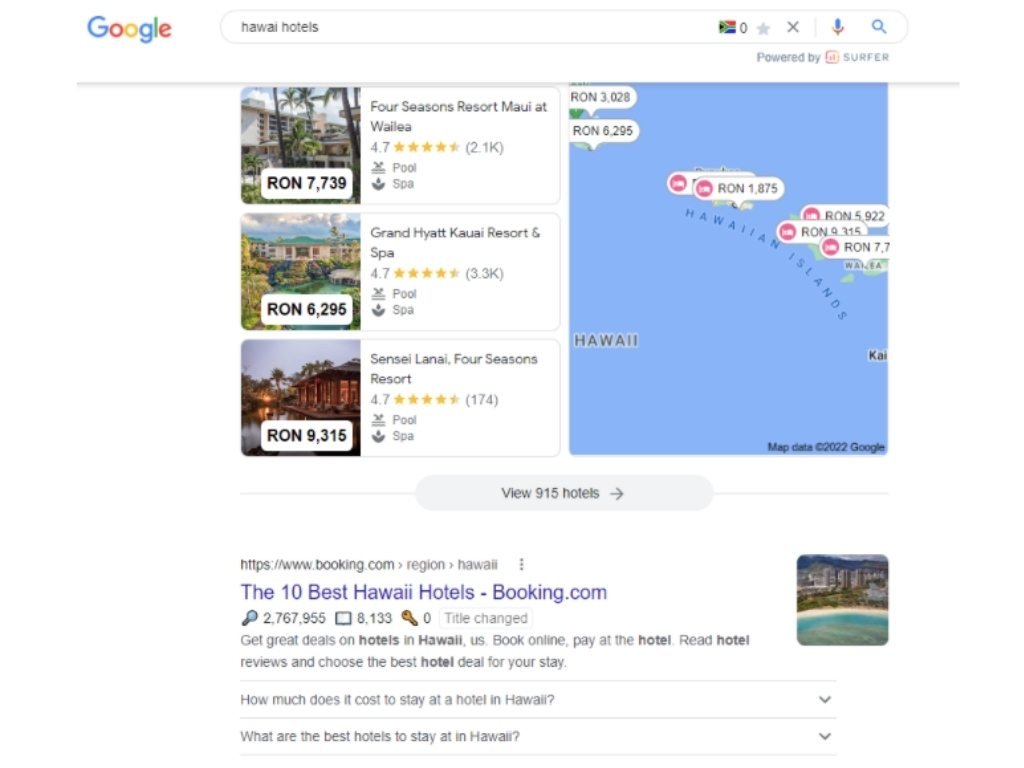 Long tail keywords are more specific. These tend to include more modifiers and are easier to rank for. An example would be "all-inclusive beach hotels in Honolulu Hawaii". This is especially powerful given the high volume of content and competition within the travel industry.
The Benefits of a Powerful Keyword Funnel Strategy
A keyword funnel strategy allows you to identify and categorise your content based on popular search terms by users. While you may always have your own keywords that you focus on, here are some of the benefits of implementing a keyword funnel for your site.
It Provides Structure for Your Site
The most notable benefit has to be how it can help structure your website. Having your broad short-tail keywords as pillar posts or category pages allows you to create a web-like structure from which your content flows.
A great example of this is a travel agency focusing on tour packages. If your site offers content on world travel and isn't site-specific, then creating category or niche pages on each major country is a fantastic start.
From there, you can include city or attraction-specific tours that target the highest-volume and easy-to-rank keywords for that specific region. This web-like structure also allows your niche audience to easily navigate the site, offering them the best possible user experience.
Tip: If you have a website idea or want to restructure your current site, look no further. Check out our comprehensive website design services.
Helps you Identify High Volume Keywords Related to Your Niche
The other benefit of a keyword funnel strategy is it allows you to target high-volume, easy-to-rank for keywords. How is this the case?
Consider you're looking for keywords for blogs on travel, and you've already extensively covered the topic "Tropical vacations". You have covered all the possible destinations under this niche, but that doesn't mean you've answered all the top search queries for the topic.
For example, your audience may want to know about the "Cheapest all-inclusive vacations in the Seychelles" or the "Best cruise tour operators in Bali." These could be easy-to-rank, high-traffic keywords you haven't covered under the broad keyword "Tropical vacations."
With the right marketing strategy and website structure, your site can start crushing the competition.
Tip: If you're looking to improve your SEO, have a look at our content marketing strategy services.
The Different Types of Searched Travel Keywords to Consider
You now know the difference between broad and long-tail keywords, but we can go another step further. When a search engine user types a keyword into the search bar, they are looking for something specific.
We can break these up into intent-specific keywords, which can help you know who you are targeting. These intentions can also help you identify the potential outcome.
Informational Intent
Informational intent includes users looking to broaden their knowledge on a particular topic. The content you provide for these keywords will need to answer the reader's search query and ideally offer further reading material to potential money-making pages.
This is where a systematic approach to the content is crucial. You don't want to draw in potential clients but have a high bounce rate because you're not answering the user's query.
Having high-quality content on your site that provides valuable information develops a level of trustworthiness for the user. This can help encourage them to continue exploring your site and potentially lead them to money-making pages.
A great example might be "Best time to visit South Africa". This informative post can internally link to money-making posts such as "Best hotels in Cape Town".
Navigational Intent
These are keywords that usually draw traffic directly to your site. In most cases, users with a navigational intent have developed a level of trust with the site and have become regular visitors.
In most cases, tour companies such as Get Your Guide and Viator receive visitors due to this keyword type. That said, if your informational content is high quality, you can easily increase visitors with navigational intent, as they may want your opinion on certain topics.
Commercial Intent
If you're looking to provide valuable information but also want to monopolise money-making potential, this search intent is best to target. Travel companies and regular bloggers love to target this user intent, and it's usually beneficial for the reader and themselves.
More often than not, these users are just browsing potential products or wanting to further their knowledge before making a purchase.
A great example of this might be "Best boat cruises in Cape Town". You can easily provide beneficial information for the reader and offer bookable tours for the topic.
Transactional Intent
This refers to the target keywords that users enter with the intention of purchasing something. Although this intent is fairly similar to commercial intent, however, the user already knows they would like to make a transaction.
A fantastic example of this might be a post on "Cheap flights from London to Cape Town" or "Affordable travel insurance packages". While you can provide some relevant information, the user's main goal of this keyword is to make a purchase.
How to Use SEO Keywords for Travel and Tourism?
SEO keywords need to be strategically placed within a title, meta description, and content. These are three of the most important elements displayed in the SERPs, so optimising this is essential for your travel website or blog.
Incorporating Keywords for Travel Blogs Into Titles
The page title is important as it tells users and search engines what your website or posts are about. For this reason, you should ensure that your page title is SEO-friendly to both people and bots.
For an SEO-friendly page title, keep the following in mind:
Humans decide whether or not they should click, so make sure your page title is catchy and enticing.
Ensure your target keyword appears in your page title, preferably near the beginning.
Keep your page title between 50 and 60 characters, or 580 px long.
Try not to include the target keyword in the title more than once. This can be seen as keyword stuffing.
Include strong modifiers in your page title. These are words that will help your page rank for related search terms. In the image above, a strong modifier is "cities", which can help the post rank for a query like "best cities to live in South Africa".
Adding Your Target Keyword to the Meta Description
The meta description, along with the page title and URL, appears in the SERPs as a snippet. As such, optimising this can greatly influence your click-through rate.
Here are some tips for an SEO-friendly meta description:
Include the target keyword or synonyms in the meta description.
Add your target keyword. Ideally, try to have it within the first sentence of the meta description.
Your meta description should be between 50 and 160 characters, or 400 px to 920 px in length. Search engines generally cut off anything past this length, and if it is shorter than 50 characters or 400 px, it's highly likely it won't be included.
Ensure that it includes catchy travel words — you could pose a question or call to action to draw in the audience.
Making the URL User and SEO-Friendly
The URL of your web page is also essential for ensuring your travel content is seen. A relevant URL will help search engines categorise your content and thus increase its likelihood of ranking in SERPs.
To optimise this, follow these steps:
Your URL should contain your target keyword, as this tells users and search engines what the page is about.
Ensure that your URL is short, clear, and easy to understand — avoid additional words, symbols, special characters, or numbers.
The image above shows an optimised snippet (the top snippet). The target keyword (best tropical vacation spots) appears in the URL, meta description, and page title. Additionally, both the page title and meta description are catchy and an ideal length.
Adding Keywords Related to Travel Into Text
Based on your keyword research, you will want to include various keywords throughout your content. These should relate to your topic or main keyword. For example, if you're writing on hotels in Hawaii on the beach, you'll likely find plenty of other keywords similar to this that will also help you rank.
In the following section, we will highlight some ways that you can find strong topics and keywords for your travel blog or website.
How to Find the Top Travel Keywords for SEO
The first place to find good travel SEO keywords is through your own expertise. If you're an expert and know about specific destinations, then use that knowledge by writing articles based on where you've been or things in the industry that interest you.
To take it a step further, ensure that the search term you're targeting is actually being searched for. There are several keyword research tools you can use to help with this. Popular picks include Ahrefs, Google Search Console, SEO Surfer, and Ubersuggest.
These tools will provide you with a wide range of practical insights to validate targeting a given keyword. Some valuable data provided include the amount of traction a keyword receives each month (pertaining to traffic and volume), whether or not the keyword will be easy to rank for, and plenty more.
By considering these insights, you will be able to create content that best aligns with your target audience's intent.
Social media platforms like Pinterest, Instagram, Facebook, and Twitter can also provide you with a number of useful insights. These platforms are particularly helpful for understanding your target audience and the queries they're after.
Below is a detailed guide on how to leverage each of these tools to find strong keywords and opportunities for your travel site or blog.
1. Ahrefs
Ahrefs is an SEO software suite containing a variety of tools that are great for keyword research, link building, rank tracking, and more. The keyword research tool is useful for identifying topics for your travel website and the keywords you should include and prioritise in your content.
By leveraging Ahrefs data, many marketers and SEOs have been able to achieve higher Google rankings. To make things even better, the Ahrefs blog is also an open source of tips and tricks to help you maximise the Ahrefs tools.
Note: Ahrefs is a premium tool, but it has some great features for finding more traffic. So, if SEO is your thing, then we would highly recommend taking the time and signing up for this monthly service.
2. Google Search
If you're not looking to pay a monthly subscription fee, then do not worry — there are plenty of ways to find strong keywords and topics without spending a cent.
One of the most powerful tools is Google. You can type the query you wish to target into the search engine and see what comes up in the SERPs. It also helps to look at the "people also ask" section, as this includes additional information that users may be looking for based on their initial query.
3. Google Search Console
Aside from the Google Search function, you can also use Google Search Console (GSC). This is a free tool, but it's beneficial to use the Adwords tool, which will be at an additional cost.
GSC helps you perform your keyword research and identify possible search campaigns. Like Ahrefs, this will provide you with estimates on how many searches a keyword is getting. Another great feature is it allows you to see which keywords you are already receiving clicks and impressions from, which can help you decide if optimising a certain page is necessary.
As GSC is primarily targeted at those running Google Ads, you can also expect additional information, like the estimated cost of targeting a given keyword.
Tip: This is an extremely beneficial tool for content optimisation. If you want to upgrade your content, look at our on-page optimisation services.
3. Social Media
Another free tool that is often overlooked when researching the best keywords for travel websites is social media. While it is not necessarily a keyword research tool, it is an excellent source for finding medium and long-tail keywords receiving high traffic volumes.
Social media platforms are constantly gathering information on people — including what they do, what they like, where they go, and what might prompt them to click. And given that the average user spends nearly three hours a day on these platforms, you can expect some good, reliable data.
Various social media platforms can be leveraged in different ways. Here is a brief look at how to use each for keyword research:
Instagram: You can make use of hashtags to identify relevant topics. For example, if you want to post travel content, search #travel and see what other hashtags recent posts are using.
Facebook: Use Facebook targeting options to learn about your audience or search travel-related Facebook groups for popular topics.
Twitter: Use Twitter's Explore function and see what topics appear under "trending" and "for you". This will highlight various topics that people in your industry are talking about.
Pinterest: This app predicts what content users interact with and provides related content. By searching for travel, you're sure to find plenty of topics through pins, boards, and hashtags.
YouTube: Use the auto-complete function to find related terms. This can be done using Google and Pinterest too. You can also check out the various travel YouTube tags.
Note that some social media platforms like Twitter will require you to be more active to reap the rewards. And if you're looking to run a social media campaign of your own, check out our social media marketing services.
4. Keysearch
Like Ahrefs, Keysearch is a premium tool used for finding keywords. It allows you to effectively track your SEO efforts, identify keywords that you're likely to rank for, and more.
The free version of this tool will give you some basic information, but the paid version of Keysearch ($12/month) has more features and really helps with all your SEO campaigns.
It's not too expensive, considering the detailed insights you can receive, so we would recommend signing up for the paid version.
5. Ubersuggest
Ubersuggest is another great tool for finding keywords. It's not as robust of a program as Ahrefs, but it has some really good features and can be helpful if you're just getting started in SEO or have an existing website that needs help.
Ubersuggest is a free Chrome extension that provides you with a variety of insights, including keywords, monthly search volume, cost per click, and competition data. Simply enter the keyword or phrase you're after, and it will bring up all the most popular pages for that term.
It's also not limited to keywords specific to Google, but sites like Amazon and YouTube, too. As such, you can expect to find a variety of topics and long-tail travel keyword lists using this free tool.
6. SEO Surfer Chrome Extension
Like Ahrefs, Surfer SEO provides us with keywords to be used in our content. It takes the main keyword you enter, scans the web for competitors who are already ranking for that main keyword, and combines the keywords those competitors are using.
You will be able to see these keywords on the SEO Surfer site or by using the SEO Surfer Chrome extension. This will show you your keyword usage on the page you're writing on and the keywords you should try to add.
In addition to words and phrases, Surfer SEO provides several other metrics to help you write and optimise your content. These include the average word count that the post should be, how many headings the post should have, what keywords to include in those headings, and more.
A Quick Note on Modifiers
Keywords are a powerful aspect of any travel site's SEO, but tracking the modifiers is also important. These strings of words and phrases are regularly added to the initial target keyword by search engine users.
Incorporating these popular modifiers throughout your content can play a significant role in helping you rank in SERPs. Keep in mind these should still be added naturally.
The Negative Effects of Keyword Stuffing
Keyword stuffing is seen as a technique in which one tries to manipulate and improve their search rankings by overusing keywords and phrases within their content. While this was a powerful strategy of the past, it forms part of the list of Google penalties your site can endure.
There is no formula to avoid keyword stuffing. But the best practice is keeping your content user-friendly and only naturally incorporating keywords where possible.
Our Processes for Finding the Best Keywords for Travel Bloggers
If you sign up for one of our travel SEO services, you may want some assistance finding related keywords to your travel niche. These processes require an analytical approach to identify already written content and find the best possible options for future content.
Here's a basic breakdown of each process and the key differences between them.
1. Topic Mine
A topic mine helps you identify easy-to-rank keywords that can bring in the highest possible traffic to your site. It entails having an already established broad keyword such as "France itinerary". Keep in mind there may be related keywords that could help you find more topics to write about.
An example, if the target keyword is "France itinerary", you may want to add "France travel" or "France Holiday" to your search.
Once we have the main topics, we use the Ahrefs content explorer tool to find high-traffic, easy-to-rank keywords about this topic. We then systematically identify the best topics to write on and prioritise them within a formatted sheet.
2. Phrase Match Mine
A phrase match mine is fairly similar to a topic mine. Usually, there is a predetermined series you will want to write about, such as "Luxury hotels in X" or "Best places to visit in Y".
Using the Ahrefs phrase match tool, we are able to find all the best keywords matching the given phrases. This process helps you identify keywords that your site is most likely to rank for within a particular series.
This way, you are not wasting time and money writing high-difficulty topics.
3. Competitor Mine
Our last and possibly most popular process is the competitor mine. As the name suggests, this is a process in which you find all the high-traffic, easy-to-rank posts that your competitors are ranking for.
We usually ask for your top three competitors or perform a quick site search on Ahrefs to identify your top competitors. We then identify and compare these three competitor sites and find the best topics your site can rank for.
What Are the Best Travel Keywords for the Travel Industry?
You no longer need to wonder what are the best keywords for travel websites. From knowing the different types of keywords to the plethora of tools mentioned in this guide, your SEO campaigns are about to hit new heights.
Whether you use Ahrefs, SEO Surfer, Google, or social media, you're sure to find some of the most searched queries within the travel space.
So what are you waiting for? Begin with effective keyword research to find high-traffic topics and keywords relating to various destinations, activities, and attractions, and start growing your travel blog!
What's the next step? Book a marketing consultation session with us and start figuring out how your website can reach all the right people.